Most investors don't have the tools or data to track Wall Street's money flow. But thanks to Alpha Money Flow, they don't need them.
Our award-winning trading research service has been a fan favorite ever since the unique strategy behind it was debuted in 2017. Alpha Money Flow focuses on the pivotal moment when buyers outnumber sellers. The algorithm behind it targets the market's hottest stocks, options and cryptos… before they're hot. This approach has led subscribers to supercharged gains of 270% in just 11 days… 325% in two months… and 400% in just 35 days.
When you get Alpha Money Flow delivered to your inbox, you'll have access to the hot stocks and cryptos… before they make headlines.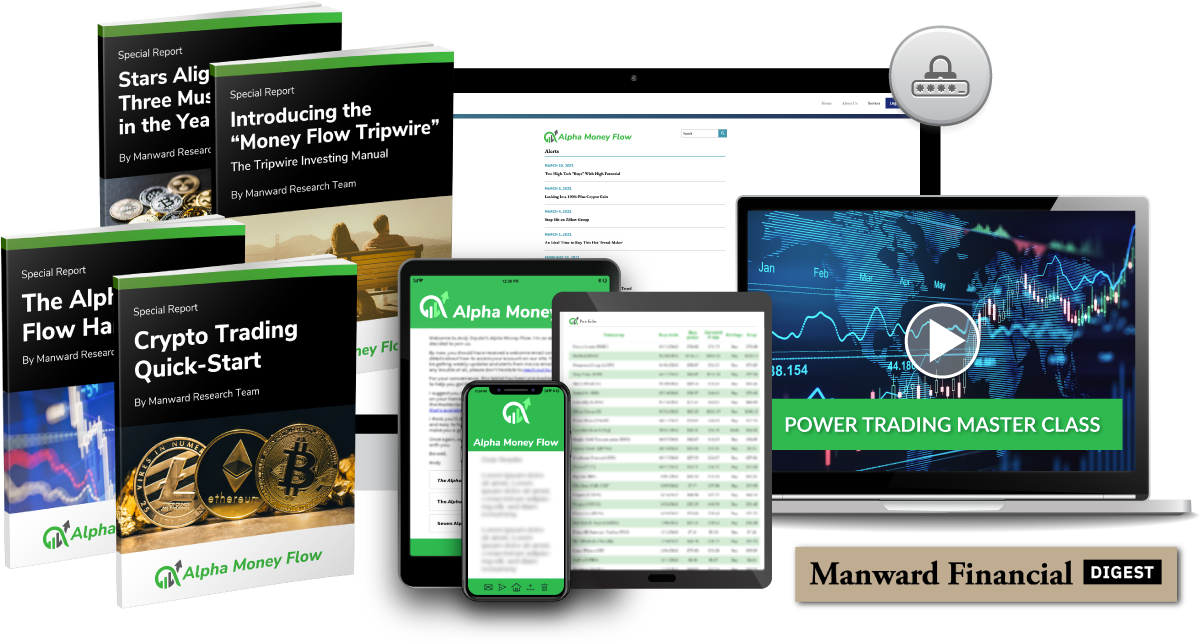 Inside Your Subscription
All Alpha Money Flow research, recommendations and detailed instructions to make the most of every stock, options and crypto trade
Weekly emails with market commentary and updates on positions
Live weekly video calls
The Alpha Money Flow Master Class (video series)
Special Report No. 1: "Stars Aligned: Three Must-Own Coins in the Year of Crypto"
Special Report No. 2: "The Alpha Money Flow Handbook"
Special Report No. 3: "Introducing the 'Money Flow Tripwire': The Tripwire Investing Manual"
Special BONUS Report: "Crypto Quick-Start: How to Make Your First Purchase"
Complimentary subscription to the world-famous Manward Financial Digest e-letter
Complimentary subscription to Manward Trading Tactics, our weekly email newsletter for premium subscribers only
And much more!