He's worked for the queen… been appointed by the prime minister…walked the halls of Congress… and is considered one of the world's greatest entrepreneurial thinkers and investors. Now he's working for you.
 Alpesh Patel's GVI Investor uses proprietary formulas to identify stocks that are seeing massive growth… are trading at a deep discount to their true value… AND stand to deliver incredible income.
Created by award-winning hedge fund and private equity fund manager Alpesh Patel, this strategy has led to big wins like 114%… 122%… and 123%… all pure stock gains made within 12 months. Transform your wealth with the hedge fund secrets that have beaten the S&P 500 by 580% for five years running.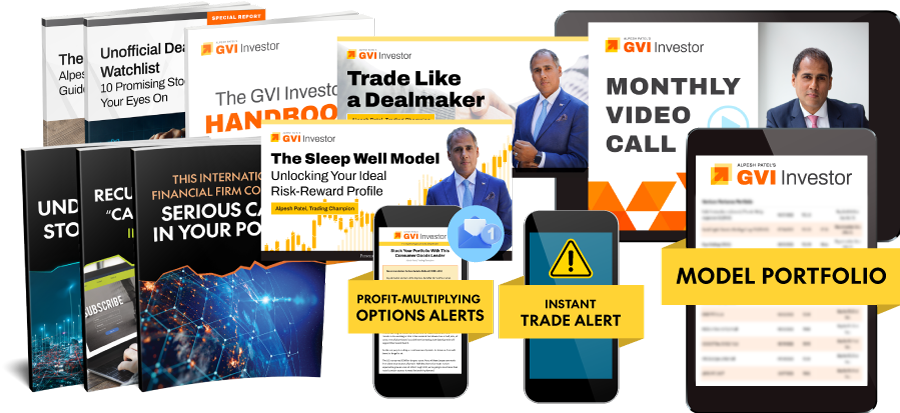 Inside Your Subscription
All GVI Investor research, recommendations and detailed instructions to make the most of every trade
Weekly emails with urgent market commentary and updates on positions
Monthly video calls
"The GVI Investor Handbook"
Special Report No. 1: This International Financial Firm Could Put Serious Cash in Your Pocket
Special Report No. 2: The Most Undervalued 5G Stock of Today
Special Report No. 3: Your Recurring Revenue "Cash Machine" in Any Market
Special Report No. 4: The Profit Multiplier: Alpesh Patel's Ultimate Guide to Options
Special Report No. 5: Unofficial Dealmaker Watchlist: 10 Stocks to Keep Your Eye On
Video No. 1: The Sleep Well Model – Unlocking Your Ideal Risk-Reward Profile
Video No. 2: Trade Like a Dealmaker 
Complimentary subscription to the world-famous Manward Financial Digest e-letter
Complimentary subscription to our trading strategy e-letter, Manward Trading Tactics
And much more!
Click Here to Learn More