More Thoughts on Social Media, Cellphones and Our Beloved Bees
It's a busy weekend on the microfarm. We picked up three new packages of bees last night. We've got half a dozen recently hatched chickens that need attended to, and we're officially on lamb watch.
Spring has most certainly sprung.
But before we head outside, we have a bit of work to do.
We must tackle our correspondences. We must honor our Connections.
Our mailbag is overflowing.
As we shuffle through our various notes, questions and comments from loyal readers, we see some themes.
That's good. It means we're thinking alike.
It wasn't on purpose, but we've crowed a lot lately about how folks connect these days. It's clear that with technology comes progress… and problems.
Lots of problems.
We'll start with a question that we like a lot. It keeps us accountable.
Love the comments on the dangerous pitfalls of social media (and agree wholeheartedly). But have to ask… If you're so anti-Facebook, why is there a Manward Facebook page? – James O.
Ah yes, we're touching on one of man's greatest debates… with so much black and white, where do we accept shades of gray?
Where do we draw the line?
Questions like these led us to Prohibition. They led us to a war on drugs. And they've kept countless shrinks, counselors and pastors fully employed.
We know alcohol is a dangerous drug… and yet we cherish a good drink.
We know smoking will kill us… but the robust aroma of a fresh cigar lingers in our workshop.
And we blast the ills of social media… yet we'll log in and spread our views (you can see them here).
Are we hypocrites?
br>
Nah. We say the secret to a good life is moderation.
It's not the man who knows when to quit whom we worry about.
It's the alcoholic… or the two-pack-a-day smoker… or the teenager who spends hours a night scrolling through Facebook comparing himself to others – never knowing which pictures are real and which are fake.
That's what worries us.
Trouble brews when anything is entirely off-limits. Only the ignorant would deny it.
We'll have a drink on Friday night… but we certainly wouldn't spend all day Thursday at a bar.
Our view of social media is no different.
In fact, you could ask the same question about cellphones. We know they're trouble, and yet there's one just out of arm's reach as we type.
We'll take a call or two today… but we'll never keep our face in the screen all day.
Moderation, my friend.
Along those lines, many, many readers have shared their thoughts on the dangers of smartphones recently. We've clearly tapped a vein of fear.
Most folks are concerned for younger generations.
Evelyn A. asked a question we get a lot…
I am a grandmother and like your article a lot. Can I forward it to my children so they can manage their children's use of the cellphones? Of course, I understand if I can't.
We'd be dumb not to let our readers share what we write. Our mission with this passion project is to reach as many folks as will listen to us.
And we think spreading the word about cellphones to younger generations is a great place to start.
As you may recall, we recently surveyed readers about their views on cellphones and their addictive ways. The results are stunning.
Hundreds of readers took part… clearly showing the vast majority of folks see trouble brewing.
Here's a snapshot of the results.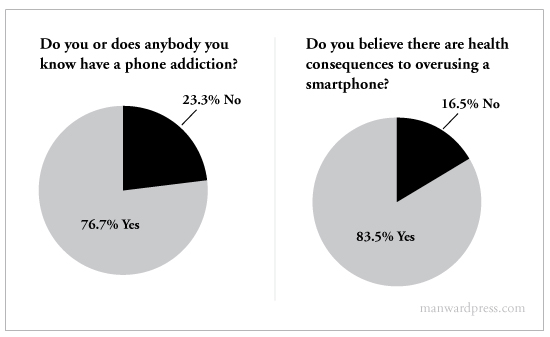 When we asked about specific fears, the range of answers was wide:
Cancer
Distracted driving
Anti-social behavior
Privacy
Addiction (nomophobia).
Out of all of those, the most research has been done on cancer. We've dug into it recently… and it's scary. It reminds us of the huge cigarette debacle of the 1950s… very scary.
We could be in the midst of a big mistake.
We'll be writing more on that subject soon.
For now, we've got chores to do. We'll leave the phone in the house.